6 Steps to Cleaning Up Your Yard After a Storm
Cleaning up your yard after a storm can be a chore. It's the start of the summer storm season in Central Indiana. It's not a question of if it will storm but when, how often, and how severe. No doubt there will be high winds and hail, and tornadoes are not uncommon. We hope no storm damages your personal property this summer. However, it's a sure bet that storms will leave sticks, branches, and occasionally a downed tree in their wake. Our tree experts can provide storm damage clean-up regardless of the size of the mess left by the storm, or if you want to tackle the clean-up yourself, please follow these 6 steps.
6 Steps to Cleaning Up Your Yard After a Storm
1. Safety First
Before you begin any clean-up activities, prioritize safety. Inspect the area for any hazards, such as downed power lines, broken branches hanging overhead, or hazardous trees. Contact local authorities or professionals for assistance if you encounter any dangerous situations.
2. Evaluate the Damage
Take a thorough look at the trees and shrubs on your property to determine the extent of the damage. Identify and mark broken branches, uprooted plants, or damaged trunks. Assess the health and stability of trees and shrubs to decide whether they can be saved or you should remove them.
If any trees or shrubs have been uprooted but are still intact, you may attempt to salvage them. Carefully replant them, making sure to provide proper support and watering. However, keep in mind that some plants may not survive the damage, and it might be necessary to remove them.
3. Prune Broken Branches
Start by removing any broken or hanging branches from the trees. Use appropriate pruning tools like loppers or a pruning saw to make clean cuts. Cut branches back to the nearest healthy junction or the main trunk to avoid leaving stubs.
"Look for branches that already have broken free or been partially severed and may have left a jagged stump on the trunk. Make a cleaner cut on those branches to help facilitate the growth of natural callus tissue that with time "seals" the wound." — Purdue.edu — Coping with Storm-Damaged Trees
4. Remove Debris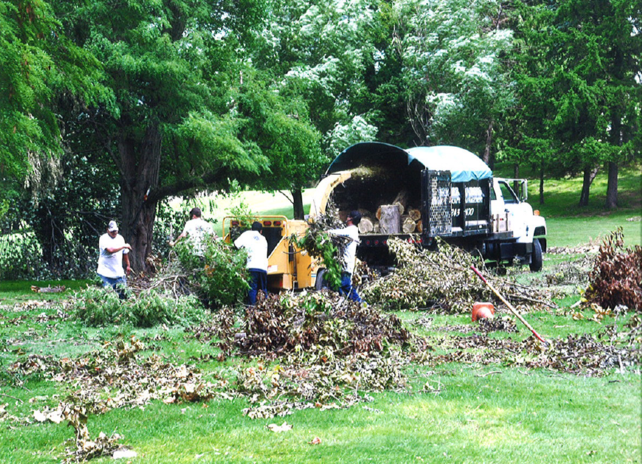 Clear the area of fallen branches, leaves, and other debris. Be cautious while lifting heavy objects; wear appropriate gloves to protect your hands.
5. Dispose of Green Waste
To properly dispose of the collected green waste, first check with your local municipality for guidelines on disposal. They may provide curbside pickup or have designated drop-off points. Alternatively, consider mulching or composting the green waste if you can do so.
"Most local ordinances have specific parameters for yard waste disposal, and an experienced yard waste collection service will know the rules and regulations for haul away and disposal. In general, yard waste includes organic materials collected in cleaning up gardens and landscaping: grass clippings, leaves, and non-woody organic matter such as plants and pruning shrubs." — Bob Vila — Lawn & Garden
6. Monitor and Maintain
After the clean-up, continue to monitor the health of the trees and shrubs. Watch for signs of stress or further damage, and provide appropriate care, such as watering or additional pruning if needed.
Yes, cleaning up your yard after a storm can be a chore. If these 6 steps seem too much for you to do or the extensive storm damage requires specialized equipment and expertise, we can help. We have the knowledge and tools to handle storm clean-up safely and efficiently.
How Can We Help You?
Berger Hargis has a company philosophy of providing personal excellence for all our services. Our growth and success have been due entirely to our commitment to honest, excellent customer service. The company has been built on the referral business we have received due to this philosophy.
We work with residential customers and businesses in Central Indiana. Contact Us for a free analysis from one of our trained specialists.
About the Author
Randy Clark is a speaker, coach, and author. He publishes a weekly blog at Randy Clark Leadership.com. Randy is passionate about social media, leadership development, and flower gardening. He's a beer geek, and on weekends he can be found fronting the Rock & Roll band Under the Radar. He's the proud father of two educators; he has four amazing grandchildren and a wife who dedicates her time to helping others. Randy is the author of the Amazon bestseller The New Manager's Workbook, a crash course in effective management.
Go Back